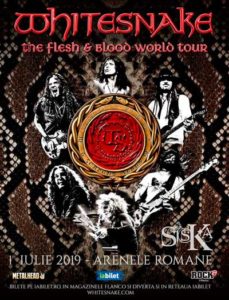 Today is a great day. Weeks ago we receive this message:
"Hey, SISKA is the only band accepted by Whitesnake Mgmt and David Coverdale."
Announcement officially:
SISKA are the only band chosen by WHITESNAKE as MAIN SUPPORT!
The rock legend has appreciated the work done in this time, the songs and the full commitment of the musical project, and the band's curriculum.
"ROMANTIC DARK & VIOLENT", our album, will be presented with a great stage set. The songs, the cover with Venice, will be brought back to that stage where, already 1 year ago, we performed together collecting fans and support!
We can finally say that, thanks to the current components, the artistic and route choices have not been compromised.
In life the results and the facts count, and being united leads to this.
After being chosen by Skid Row on their tour doing more concerts together, Enuff Z 'Nuff and having shared the stage with Children Of Bodom, Sonata Arctica, Epica, Soulfly and soon at MetalDays festival in Slovenia in Tolmin; Siska and Whitesnake will play on the same stage in the beautiful Roman Arenele of Bucharest, the Roman arena.
More than 7000 people have been waiting for this event for a long time!
We thank all our collaborators, David Coverdale and the Whitesnake (great band that we have always loved) and the people who believe in this project, our friends.
We dedicate this victory (others will follow) to ALL OF YOU, and to all those who come to see us at concerts.