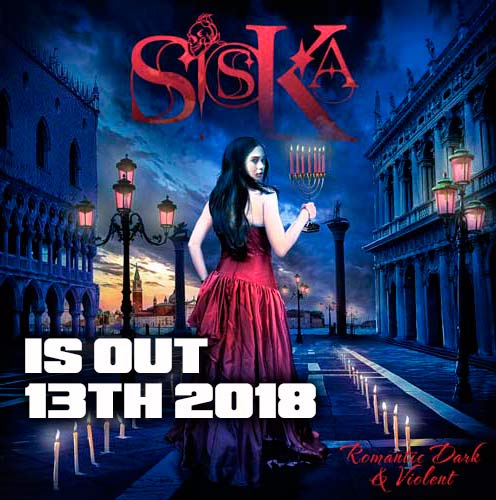 NEW ALBUM BY SISKA IS OUT
TODAY JULY 13TH 2018 "ROMANTIC DARK & VIOLENT" THE NEW ALBUM BY SISKA IS OUT.
The cover paints a dark and romantic Venice with intense colors as red and blue, reminding the dark atmosphere of the whole album that talks about love, death and desire of eternity. The main theme of the LP.
In the cover picture there's a beautiful black haired girl in a long red dress who is walking alone in an empty square towards the sea.
ROMANTIC DARK & VIOLENT, that contains 10 songs, is now available worldwide in vinyls and CDs stores and on all the most important digital platforms thanks to BIG TUNA RECORDS / SONY.
A label specialized in the hard rock, heavy metal music.
SISKA is one of the most promising and active band of the Hard Rock / Heavy Metal scene. The leader Mattia Sisca, is a talented shred guitarist who played with Blaze Bayley (Iron Maiden) in Brazil and Europe, Dennis Stratton (Iron Maiden), Michael Angelo Batio (US shredder), Jennifer Batten (Michael Jackson).
Siska is a musical project that after the tour in South America together with Tim "Ripper" Owens (Judas Priest, Yngwie Malmsteen), was chosen as the special guest from the legend of rock SKID ROW for their "United World Rebellion" tour.
In July, SISKA shared the stage of the Roman Arena in Bucharest, Romania, with Children Of Bodom, Sonata Arctica, Epica, Soulfly.
ROMANTIC DARK & VIOLENT, is certainly a valuable artistic creature, uncompromising in perfect heavy and hard rock style that will be appreciated by the purest fans of the genre, with virtuosistic guitar solos, voice, intersect power, dark and neoclassical melodies accompanied by keyboard , bass and drums.
Are you metal?
Get it!