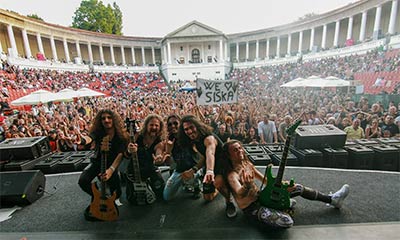 SISKA IS WORKING ON A NEW ALBUM WITH BON JOVI, KISS AND AEROSMITH'S PRODUCER.
Big Tuna Entertainment & Booking Agency is pleased to announce: "SISKA is working on a new album in collaboration with Bon Jovi, Kiss and Aerosmith's producer."
The hard rock band that toured with Whitesnake, Skid Row and shared the stage with Children Of Bodom, Sonata Arctica, Arch Enemy, Epica, Soulfly, Dream Theater and many more is working on new songs and more are coming!
The expectation is therefore growing for the new album, which will follow "Romantic Dark & Violent", work that has allowed the band to perform overseas in South America and in the stages of the most renowned hard rock and heavy metal festivals.
Siska will tour Europe in 2022 with new songs and new scenographies in arenas and sports halls to promote the new album.